Faz exatos 75 anos que na edição 27 de Detective Comics, o mundo conhecia o Batman, um mix de vários personagens como o Sombra, Zorro e outros heróis pulp. Passando por inúmeras reformulações, o Homem Morcego tornou-se com o tempo um um dos maiores ícones da cultura pop, lembrado por vezes como um símbolo de justiça no nosso mundo.
Da história oriunda da imaginação de Bob Kane e Bill Finger, surgiram inúmeros personagens e outras histórias memoráveis, permeando vários gêneros de narrativa. Nesses últimos anos o Batman já passou por inúmeras situações, desde as mais mundanas, como investigar pequenos crimes em Gotham, até as mais fantásticas, como derrotar o deus do Mal e impedir que ele comprometa a existência do Multiverso.
Mesmo vivendo num mundo habitado por "deuses", Bruce Wayne superou suas próprias limitações e criou algo maior do que ele próprio, uma espécie de Übermensch dos tempos modernos que converte em força tudo o que o atinge. Uma lenda, como bem traduziu Christopher Nolan em Batman Begins. E proporcional a grandeza do herói, deve ser a força de seus antagonistas. Hoje nomes como Coringa, Mulher Gato, Charada, Pinguim e até mesmo o Bane, vivem no coletivo popular como sinônimos de vilões (ou anti-heróis, dependendo das premissas que você assume).
Para mim, o que torna o personagem tão interessante é justamente essa força de vontade (por vezes desenfreada) de fazer justiça, transcendendo a "fragilidade" humana, tornando-o praticamente invencível. Poderia citar inúmeras obras clássicas, mas deixo a você, leitor e amigo que nos acompanha no Terra Zero a dizer quais as melhores histórias do Morcego e quais os momentos mais memoráveis nesses 75 anos de história. Por agora, resta apenas dizer: Parabéns Batman!
Fonte:
Terra Zero

Hekonzord

Veterano Nv.MÁX




Karma : 495
Posts : 3503



Não sou muito fâ do morcegão. Prefiro o Homem Aranha. Mas mesmo asim, parabéns!

DUDUjoe

Membro Nv.33




Karma : 52
Posts : 356



Aeee!!! Parabéns pra esse herói incrível! Curto muito os gibis dele e fico feliz que tenha completado todos esses anos de "vida" !

Gabriel Cortês

Membro Nv.MÁX




Karma : 53
Posts : 387



Não é atoa que é o MEU herói favorito desde o filme de 89, e vamos que vamos: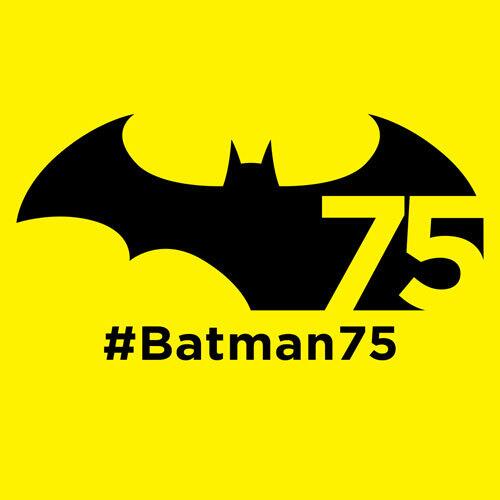 Powers
:
exceptional martial artist, combat strategy, inexhaustible wealth, brilliant deductive skill, advanced technology
Occupation:
CEO of Wayne Enterprises
Alias/AKA:
Dark Knight, Caped Crusader, Matches Malone
Facebook:
Millionaire Bruce Wayne was just a kid when he watched his parents get gunned down during a mugging in Gotham City. The crime would define his life, as he dedicated himself to becoming the world's greatest weapon against crime—the Batman.
Forget his Batarangs, Batmobile, or Utility Belt filled with high-tech weapons. 
Batman is the most feared superhero of all, because he's pushed himself to the absolute pinnacle of human achievement. He's a brilliant detective who's mastered fighting techniques the world's barely heard of. An Olympic-caliber athlete with a plan for every occasion, Batman's seemingly always five steps ahead of his foes. But in his crusade against injustice, two questions always loom: How far will he go to protect the innocent, and will he sacrifice his humanity along the way?
A Super Hero For Every Generation

Warner Bros. Entertainment and DC Entertainment Celebrate Batman's 75thAnniversary

 New Batman 75th Commemorative Logo Unveiled

To mark the milestone 75th anniversary of DC Comics' Batman, Warner Bros. Entertainment and DC Entertainment have revealed plans for a year-long celebration befitting the world's most popular Super Hero.  Highlights of the anniversary program, which starts today, include a new commemorative 75th anniversary Batman logo and an exclusive "Cape/Cowl/Create" art exhibit, featuring 20 contemporary artists' interpretation of The Dark Knight's iconic cowl headpiece and cape from the upcoming Batman: Arkham Knight videogame.  There will also be 75thanniversary-related activities across all of Warner Bros. Entertainment throughout the year.
First appearing in the comic book Detective Comics #27, which hit newsstands on March 30, 1939, featuring artwork by Bob Kane and a script by Bill Finger, Batman emerged from the shadows to become the world's most popular Super Hero and dominate all media.  In feature films, TV shows, radio, video games, publishing and merchandise, this most human of Super Heroes has battled some of fiction's greatest villains using his intellect, cunning and an arsenal of gadgets to further his quest for justice.
"Batman is an incredibly important property with multi-generational appeal across all of the Studio's businesses, and we're proud to celebrate this milestone anniversary," said Kevin Tsujihara, Chief Executive Officer, Warner Bros. Entertainment.  "From billion-dollar blockbuster films to TV, home entertainment, video games and consumer products, The Dark Knight continues to resonate with audiences worldwide and rightfully deserves his place as a global pop culture icon for the ages."
Batman is the single most successful Super Hero film franchise in history and there have been more theatrical movies released based on Batman than any other comic book character.  In video games, the Batman Arkham franchise is also the most successful Super Hero game concept ever.  Batman consistently breaks records in every incarnation of his character and remains the gold standard by which all other comic book sales are measured.
"Batman is one of the greatest characters ever created, in comics or elsewhere, and even after 75 years he continues to wildly fascinate fans.  He is an integral part of pop culture and has successfully captured the imagination of the entire world," said Diane Nelson, President of DC Entertainment and President & Chief Content Officer, Warner Bros. Interactive Entertainment.  "The origin of Batman, Bruce Wayne and the famous citizens of Gotham are legendary and likely a story you know inside out, even if you've never picked up a comic book in your life, and that speaks volumes to the character's immense popularity and the constructs of the original mythology."
The first published adventure of The Bat-Man (as he was then known) was in the May 1939 issue of  Detective Comics #27, conceived of and drawn by a 22-year-old Kane with his frequent collaborator, Bill Finger, scripting the story. The character was so successful, that one year later the first comic book devoted exclusively to the Caped Crusader's adventures,Batman #1, hit newsstands. In that issue, Batman battled The Joker and Catwoman for the first time.
Now, DC Entertainment and the Studio's various divisions, including Pictures, Television, Animation, Interactive Entertainment, Home Entertainment and Consumer Products, will mark this extraordinary 75th anniversary with a range of highly anticipated events and products.
The new commemorative logo, also released today across social media and websites, takes its cue from the famed Bat symbol, and features block-style lettering of "75 Years."  The mark will be rolled out on Batman-related promotions, products and initiatives. 
Key activities planned for the Batman 75th anniversary celebration include:



DC Entertainment – DC Entertainment has an action-packed year filled with new Batman titles, commemorative issues and variant covers, including the recently released special edition of Detective Comics #27 commemorating Batman's first appearance in the book in 1939, the new weekly series Batman Eternal launching April 9, and upcoming exclusiveBatman variant covers planned for San Diego Comic-Con International in July.






Batman Day – DC Entertainment is also partnering with thousands of comic retailers, book stores and libraries for "Batman Day" on Wednesday, July 23. Each location will host a Batman 75th anniversary celebration and offer fans a free, special edition Batman comic.





Interactive Entertainment – Warner Bros. Interactive Entertainment has invited celebrated fashion designer Asher Levine to create a cape and cowl based on the Batsuit of the recently announced Batman: Arkham Knight videogame developed by Rocksteady Studios.  Favorite contemporary artists will have the opportunity to use the replicas as a blank canvas to produce their own, original interpretations of Batman's iconic attire for an all new "Cape/Cowl/Create" art exhibit that will be showcased at San Diego Comic-Con International in July.



Home Entertainment – Warner Bros. Home Entertainment will bring fans an array of new Batman titles throughout the year, including the highly anticipated release of the Batman '66 TV series for the first time ever. Other new releases include animated films Son of Batman (May 6) and Assault on Arkham (summer 2014). Additionally, a 25th Anniversary Edition of Tim Burton's Batman feature film will be released in the fall.



Animation – Warner Bros. Animation has created two all-new Batman animated shorts set for debut in April, with fan-favorite producers Bruce Timm (Batman: The Animated Series) and Darwyn Cooke (Batman Beyond) each presenting a unique and familiar take on the Batman animated universe. In addition, Timm will participate in a Batman 75th all-star panel at WonderCon in Anaheim on Saturday, April 19, which will also feature an exclusive premiere of Cooke's animated short based upon Batman Beyond.




Television –Warner Bros. Television is in production on the pilot episode of the highly anticipated Gotham, a new one-hour drama for FOX which explores the origin stories of eventual police commissioner James Gordon and the villains that made Gotham City famous. In Gotham, Detective Gordon (Ben McKenzie – Southland) will encounter a familiar cast of characters – including a young Bruce Wayne – as he fights to keep the city safe. Executive producer Bruno Heller (The Mentalist, Rome) wrote the pilot, which is being directed by executive producer Danny Cannon (CSI series, Nikita)






Pictures – As Batman's 75th anniversary is celebrated in 2014, Warner Bros. Pictures will begin production of Zack Snyder's untitled Superman/Batman film starring Henry Cavill, who reprises his role as Superman/Clark Kent, and Ben Affleck as Batman/Bruce Wayne. The film, slated for release summer 2016, will bring the two most iconic Super Heroes of all time together for the first time on the big screen.






Consumer Products – Warner Bros. Consumer Products has partnered with an array of licensees to celebrate Batman's 75th Anniversary through special edition and limited-release products. From the classic 1960s TV series to modern day comics, Batman's presence will be larger than ever in celebration of his legacy through everything from toys to t-shirts.





DCComics.com – For the latest information and exclusive content celebrating Batman's 75th anniversary, visit www.Batman75.com. The dedicated section on DC Comics' website launches today with the Batman 75 Sweepstakes which offers one lucky fan a one-of-a-kind prize package.


---
Permissão deste fórum:
Você
não pode
responder aos tópicos neste fórum